A Handweaver's Studio
This is the site of a simple weaving program that you can use to design weave structures and color compositions.

To familiarize yourself with the tool itself you can start with these familiar patterns and some excercises. Clicking on the "Plain Weave" icon will get you into the tool. You can then change the weave structure in the drawdown to get the patterns below. Go ahead.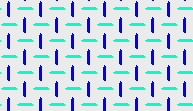 Plain Weave
How many harnesses are used? Click on the icons below to find out.
| | |
| --- | --- |
| Plain Weave with 2/2 Twill | Plain Weave with Dots |
You can find software documentation by clicking here.
From here you can visit
---